Dr Stephanie Barrett
Consultant physician and rheumatologist in London
President of the Royal Society of Medicine, Rheumatology Division, 2017-18
Member of Council and Trustee of the Royal Society of Medicine
Speciality: Rheumatology
Sub Specialities: Inflammatory arthritis, Osteoporosis, Vitamin D deficiency, Gout, Womens' Health, Workplace related limb pain, Widespread pain and fibromyalgia
As a Consultant physician and rheumatologist Dr Stephanie Barrett is well positioned in the industry to ensure each of her clients gets the finest treatment.  If you require help and treatment for a rheumatological condition then Dr Stephanie Barrett may be the person you're referred to and you can be assured her clinics provide direct and therapeutic support to help treat and manage your condition.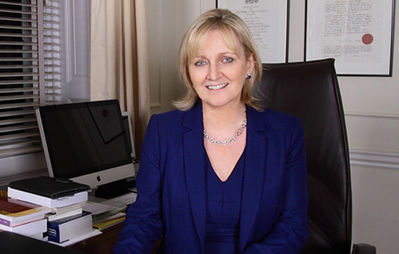 Dr Stephanie Barrett ensures each of her clients gets the finest treatment.  
If you require help and treatment for a rheumatological condition please get in touch.
Conditions:
Rheumatoid Arthritis (RA)
Osteoporosis
Lateral Hip Pain
Musculoskeletal Pain
Soft Tissue Problems
Tennis Elbow (Lateral epicondylitis)
Shoulder Pain
Trigger Finger
Carpal Tunnel Syndrome
Osteoarthritis
Gout
Sports Injuries
Back Pain
Connective Tissues Diseases
Soft Tissue Musculoskeletal Pain
Inflammatory Arthritis
Vitamin D deficiency
Treatments:
6 monthly Injections for the treatment of osteoporosis
Injections of vitamin D
Joint injections
Soft tissue injections
DMARDs
Drugs
Analgesics
NSAIDs
Steroid Injections
Physical Therapy
Surgery
Exercise
Healthy Eating
Tests for:
Osteoporosis
Rheumatoid arthritis
Gout
Systemic  lupus erythematosus
Osteoarthritis
Painful soft tissue rheumatism (hips, elbows, knees, plantar fascia/heels, shoulders)
Dr Stephanie Barrett runs an outpatient clinic at:
The London Consulting Rooms
2nd Floor
116 Harley Street
London
W1G 7JL
T: 020 7730 8508
F: 020 7692 7826
E: enquiries@drstephaniebarrett.com 
Dr RZ
I have known Dr Stephanie Barrett for more than 12 years and at all times she has been a most agreeable colleague and has dealt with my rheumatology patients promptly and expertly.
Dr KB
Dr Stephanie Barrett is a fantastic Rheumatologist. She listens carefully, investigates thoroughly and is proactive in her management. I recommend her very highly to my patients and chose her to see myself as a patient when I required the opinion of a Rheumatologist.
Lady H R
Dr Stephanie Barrett is a very special doctor who takes time and effort to devote to her patients, and goes out of her way to give them personal attention. It is a rarity in doctors' busy lives today. I have enjoyed her care and understanding, and her empathy with people who are in pain.
MCT
Dear Doctor Barrett,
I found my consultation with you on Tuesday to be informative and helpful. Also thank you for sending me the hospital forms. MCT
Shirley Ferguson
Dr Barrett is an extremely kind and compassionate clinician, not only with a wealth of knowledge in her field but also a complete understanding of the impact your condition can have on your whole life. Her swift diagnosis and treatment, which was declined by the NHS initially helped to restore my health and wellbeing, for which I am extremely grateful.
To make an appointment with Dr Stephanie Barrett