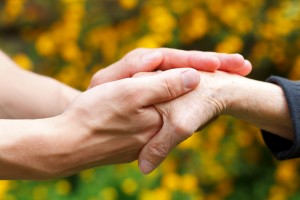 Looking after someone or becoming the carer for someone who has arthritis can be difficult and it can be challenging.
There is a fine balance to strike which involves providing a good level of care but also allowing that person their independence and respecting their wishes about their care.
It's important to gauge when care is needed and when you can stand back and there will be bumps along the way but you can be sure every day you provide care, will be highly valued.
There are no rights and wrongs when it comes to caring for someone with arthritis, especially because each person is an individual and their individual needs matter above the condition.
There are four main ways in which you can provide care for someone with arthritis. In most instances you'll provide more than one or even all types of care.
Firstly, there is the difficult process of understanding arthritis, what causes it, what the outlook is like for the individual in question and how they feel.
Secondly, is the ability to communicate effectively and listen too. Enabling two-way communication is essential and the care element of this is both listening but also providing support and reassurance.
The third method of care is more practical, through providing help with treatments which could be anything from exercise to therapies and administering medication.
The final type of care is providing and seeking out advice about benefits and support packages, this could be ensuring the right benefits are paid or it could be through finding support groups and others in the same position.
Talking about Arthritis
Communication is absolutely essential for a successful care relationship, both for the individual with the arthritis and the carer. You need to plan together how the setup is going to work, what they do want help with and what they don't and of course, the channels must remain open and negotiable so the individual with arthritis never feels unable to ask for more help if they need it. Communication is also key to coping with the condition and also coping with the responsibilities of being a carer, discussing things between yourselves can really help clear the air and release stress.
Becoming a carer is a truly wonderful decision and you can be sure your loved one will be thankful, even if they can't always express it. There are carer support groups too to help individuals get time out too and can talk about their commitments with people in the same position.
Make an appointment to discuss your arthritis
If you have any questions about arthritis or would like to book an appointment with Dr Stephanie Barrett then please get in touch here.
---