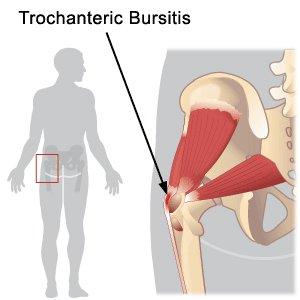 Pain around the outer (lateral) side of the hip is a very common, and often debilitating, condition. People typically experience severe discomfort when lying on the affected side, which often wakes them up at night, as well as feeling pain when walking, climbing stairs, or sitting for long periods of time. This type of pain can often be misdiagnosed as osteoarthritis, despite the fact that this is not usually how it presents, so a thorough physical examination and investigations are important to ensure that the source of your pain is correctly identified. Many other, very treatable, conditions are more likely to be responsible for these symptoms, so getting an expert opinion can be invaluable.
Diagnosis
The first step towards resolving your lateral hip pain is getting an accurate diagnosis. This will be done through a combination of the following:
1. Your description of your symptoms
2. A physical examination by Dr Barrett, the outside of the thigh is very tender on palpation
3. Medical imaging, such as MRI, X-Ray etc (if necessary)
Once this information is collected, the doctor will aim to give you a clear explanation of what is causing your pain, and advise you on the best course of action to take.
Treatment
Dr Barrett has an excellent record of treating this type of pain, with her clinic able to offer steroid injections, magnetic shockwave therapy and expert rehabilitation advice. Each patient will be assessed individually, and the most appropriate treatment for their personal needs will be discussed. If appropriate, onward referral to another leading expert may be advised.
Steroid Injections
A common cause of lateral hip pain is trochanteric bursitis, an inflammation of a fluid filled sac (bursa) near the hip. While exercise, painkillers and activity modification are useful in treating this condition, steroid injections can be very valuable, by quickly reducing pain and improving function. Dr Barrett is vastly experienced in offering these injections, which are usually given in the clinic during your appointment. This treatment is usually painless, and is covered by all major insurance companies.
In-House Pain Clinic
Dr Barrett oversees her very own specialist pain clinic – RTMS London, where highly trained experts use pioneering magnetic stimulation therapies to treat various musculoskeletal pain conditions, including many forms of hip pain. Our team will work with you to help improve your symptoms, and discuss rehabilitation strategies to help you to self-manage in the long-term. This is an excellent accompaniment to steroid injections, or an alternative treatment for those that would prefer not to have an injection.