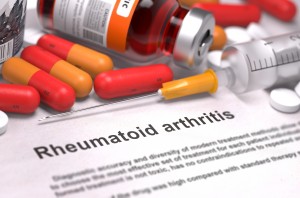 Rheumatoid arthritis is a form of arthritis that is known to affect both joints of your body. It will affect both of your wrists, hands or knees and it will always maintain such an equilibrium, something that will make it distinct from other forms of arthritis. Aside from the aforementioned portions of your body, it can also affect your nerves, blood, heart, lungs, eyes and the skin.
When it comes to its overall development, it's important to note that rheumatoid arthritis can develop faster or slower, it all comes down to the biological characteristics of each person. Some persons will experience these symptoms during a shorter time span and then they will disappear, while others will have to deal with these symptoms for a long period of time.
An important thing to know is that this particular condition is widely encountered in the case of women, although when men have rheumatoid arthritis, they tend to have some more, sever symptoms.
In the case of rheumatoid arthritis, inflammation triggers the immune system and assaults the joints as well as some other organs. When this happens, fungi, viruses and bacteria will attack the immune system, and in result some of the joint functions will slow down. Unhealthy habits such as smoking and even genetic patterns can also lead to such problems as well.
Both young and adult population can be affected by this condition, however the older population seems to be facing with higher risks of rheumatoid arthritis.
Treating rheumatoid arthritis
There are multiple treatment methods for rheumatoid arthritis, and these include medicine, surgery, lifestyle changes, but there are some alternative treatments such as distinctive foods, vitamins and a few other therapies that will curb stress and minimise pains.
It's important to address the condition as early as possible because the more it will progress, the more damage it will cause to the cartilages at all times. Not only that, but it can also lead to joint malformation as well. The bad thing here is that joint damage can't be overturned, so you do need to address the condition as fast as possible in order to avoid such a thing from happening in the first place.
Symptoms
Some of the early symptoms of rheumatoid arthritis include fever, feeling sick, weight loss, and muscle pains amongst others. In some cases, inflammation progresses towards other parts of the body, such as the lungs, heart, blood vessels, or eyes. However, this is something rare but when it occurs it may lead to some critical complications.
In other situations rheumatoid arthritis can develop progressively and it might take a few weeks until it can be identified and treated. At first, it will start with a slight stiffness in the feet, wrist or hand area. Then it will continue by increasing the consistency of these issues, and it might even progress towards engorgement and pain in the same joints. Even some of the other joints will be affected when the condition reaches its epitome.
It's important to note that in some cases swelling and pain will quickly advance towards specific joints in just a few days. Young women will usually encounter such issues in one or two joints at first, most of the time in the knee area. There are some other indicators however like anaemia, weight loss, muscle pain and fever that will appear before the joint signs will appear.
No matter when these problems will appear, you will need to address them properly by contacting your doctor right away. Rheumatoid arthritis is a common disease, there are multiple treatments that can help you alleviate the pain but only your doctor will be able to help you solve this riddle.
Make an appointment to discuss your arthritis
If you have any questions about arthritis or would like to book an appointment with Dr Stephanie Barrett then please get in touch here.
---